Melissa and I awoke early enough to get an overpriced breakfast at the hotel.  It wasn't terrible, but it was a long measure from good.  The main problem was that the eggs tasted like powder.
With our bodies fueled, Melissa and I began to attend panels.  I won't detail the panels too much in this post, as I'm going to be putting all of my convention notes up above when I get home.  I will say that Melissa seemed to enjoy the panels much more than I expected.  Most of the topics were about writing and the business of writing, and it wasn't really new to me.  I thought Melissa would be bored by much of it, but she took some notes of her own on her phone.
At one point, we wandered over to FantasyCon, taking place directly across the street at the Salt Palace.  We didn't spend a ton of time there, but we got to see some interesting costumes, and a lot of really cool art.  We got our pictures taken in front of a green screen, and we were added to Guardians of the Galaxy.  As you can see below, Melissa is now named "Ravager" and my name is now "Outlaw."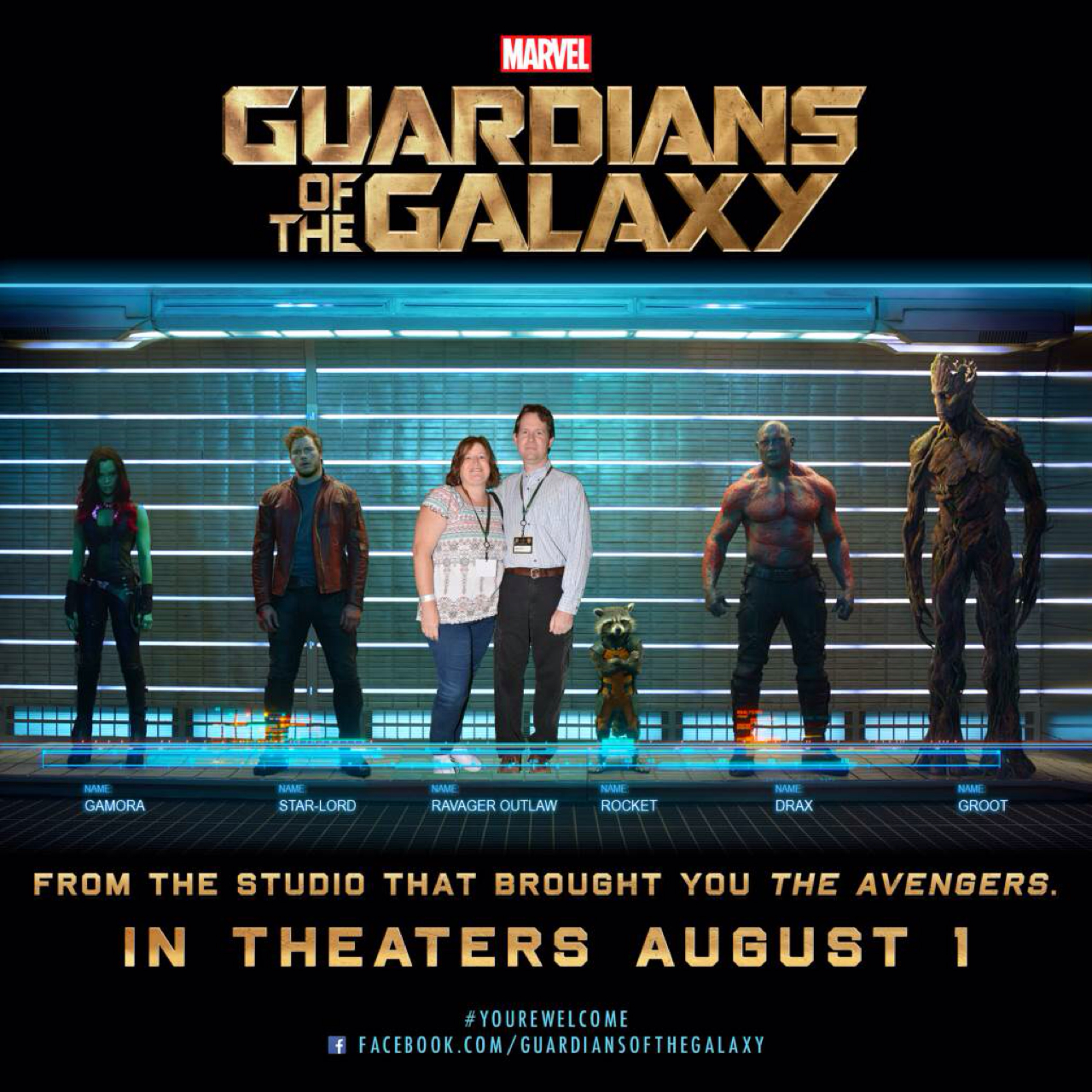 When all of the panels were finished, Melissa and I met up with Michael in preparation for going out to dinner.  Michael was feeling a little down in general, as many of his plans for the weekend had fallen through, and his sales hadn't been stellar that day.  He was down enough to have doubts about some of the relationships he's enjoyed over the years with some of the big names that come to the conventions.
As we were waiting for the elevator, Howard Tayler approached us and asked if we had dinner plans.  We then went to a fantastic local Italian place that sold traditional pizza.  During the course of the conversation, it occurred to Howard that Michael would be perfect as a guest on the Writing Excuses Podcast, and invited Michael to join him on stage the next day.  As you can imagine, Michael's feels of doubt were replaced with euphoria, and he walked about 6 inches off the ground back to the hotel.
Once back at the hotel, I took Melissa up to the 15th floor, to enjoy the parties.  Unfortunately, the party scene was extremely dry.  We enjoyed a couple of nice conversations, but it wasn't the kind of experience that I'm accustomed to at this sorts of conventions.  We excused ourselves relatively early and went to bed.
It was a very full day, with more ups and than downs.  We're having a really great time.